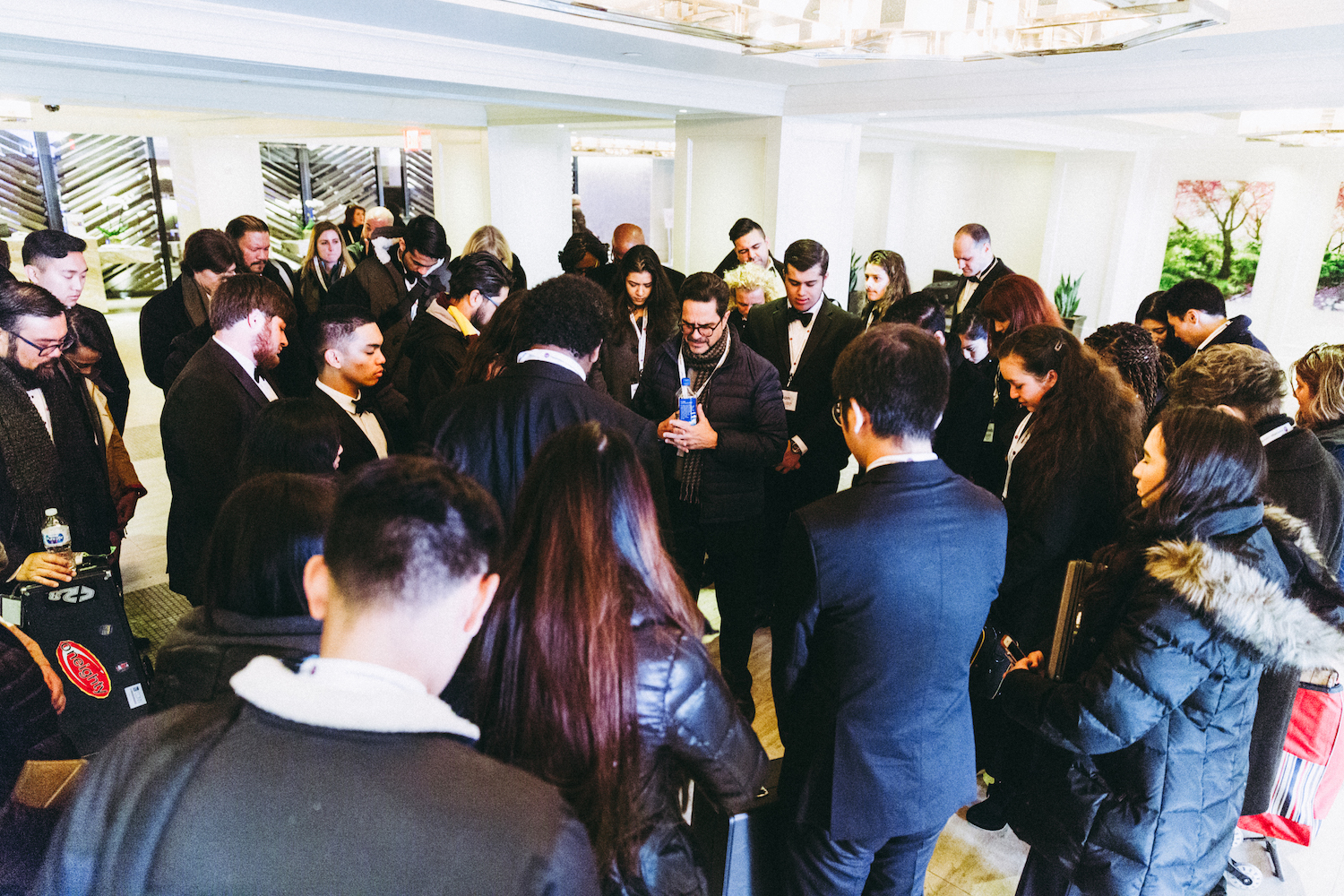 On the evening of March 15, 2018, La Sierra University's Wind Ensemble, led by conductor Giovanni Santos, walked onto one of the world's most eminent stages where many of music's greatest talents have dazzled audiences with their skill. The ensemble of more than 40 La Sierra musicians made their debut at New York City's Carnegie Hall performing published pieces as well as new works written by Santos, adjunct music professor and Emmy-winner Gary Kuo, and tenor Anthony Léon, an award-winning music major at La Sierra. The Wind Ensemble's repertoire included Santos' "Voyages," which he premiered in January with the U.S. Naval Academy Band Brass Ensemble at the John F. Kennedy Center for the Performing Arts in Washington, D.C.
To be considered for the Carnegie Hall performance opportunity, Santos submitted audio recordings of the ensemble to international performance organizers Manhattan Concert Productions. The ensemble was accepted for the March 15 appearance in famed Isaac Stern Auditorium as well as McMurry University Chanters and Wind Ensemble from Abilene, Texas, and the Scarsdale High School Wind Ensemble from New York.
Carnegie Hall, a National Historic Landmark, opened in the spring of 1891 through the backing of wealthy industrialist Andrew Carnegie. Famed composer and conductor Pyotr Ilyich Tchaikovsky appeared for the hall's opening night performances, setting the stage for a litany of eminent musicians from across various musical genre who have since performed to scores of fans gathered in the six-story, Italian Renaissance-style structure. These have included world-renowned composers Antonín Dvorák and Gustav Holtz, famed pianists such as Vladimir Horowitz, eminent violinists such as Isaac Stern for which the main stage is named, vocal sensations Placido Domingo and Marian Anderson and numerous others. Over the years, the hall broadened its offerings to include jazz, folk and pop stars. United States presidents and other world leaders have delivered talks on its stages.
"The greatest thrill for me was not the fact that I was on stage, but that I had the opportunity to share a very special moment with my students," Santos said. "Seeing them succeed made me quite happy. Our students were fantastic and represented our university with distinction and pride." The experience made a significant impact on La Sierra's student musicians.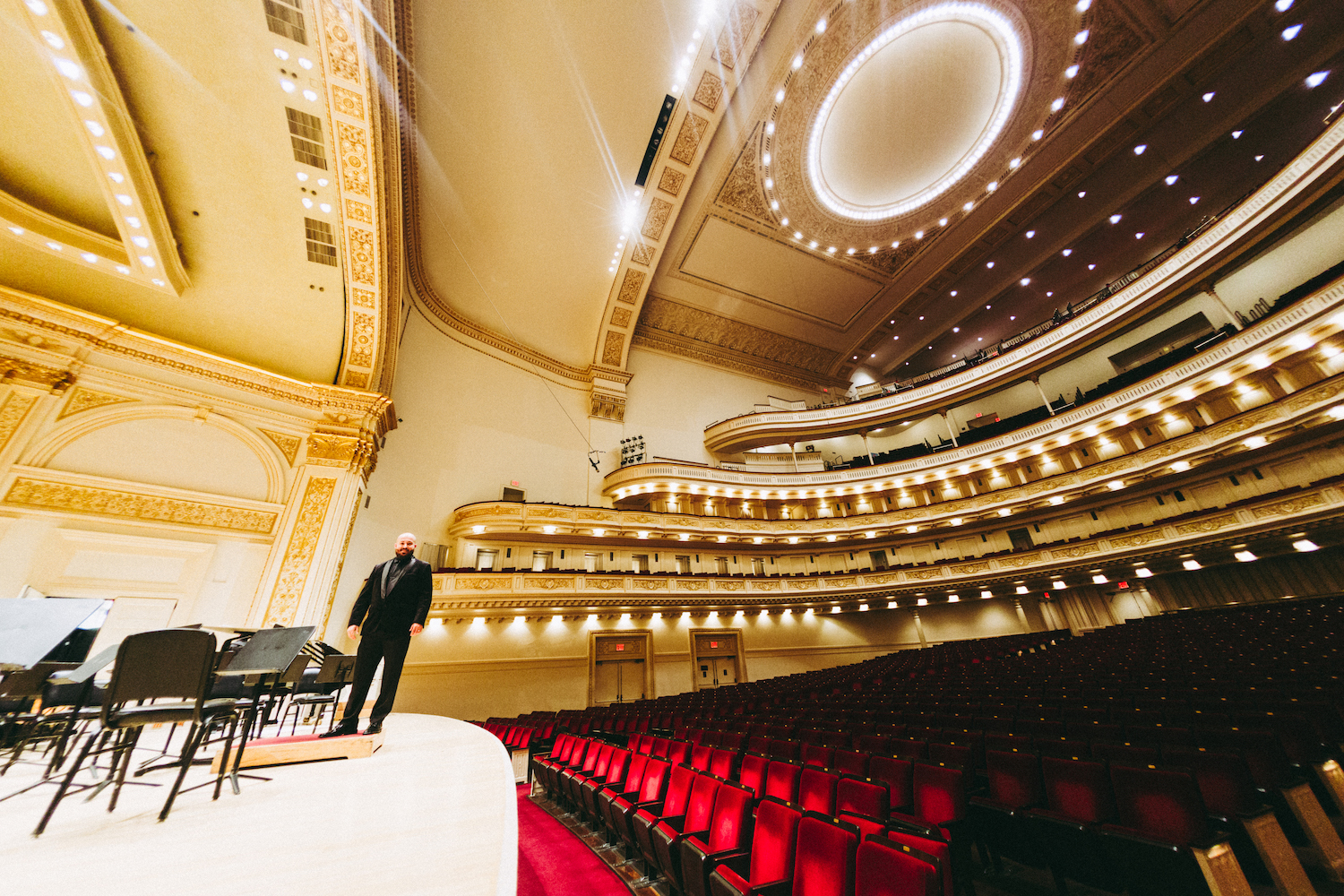 "It was overwhelming," said Sam Salazar, a tuba performance certificate student from the University of Montemorelos, a Seventh-day Adventist school in Mexico. "You get there and you don't believe it's such a beautiful hall. There's so much history embedded [there]. It was a lot of practice and a lot of hard work" to be able to perform at Carnegie, he said.
Isabel Serrano, a freshman music major and flutist who arrived at La Sierra from Loma Linda Academy described the experience of walking onto the Carnegie Hall stage as "surreal and inspiring. It made me want to come back as a [professional] musician," she said. "It was such a blessing to be there."
"Carnegie Hall was an absolutely amazing experience," said saxophonist and senior healthcare management, pre-med major Jonathan Thomas who also arrived at La Sierra from Loma Linda Academy. "As a non-music major I never thought I would be able to play on the stage of Carnegie Hall. I am so thankful for the opportunity that the La Sierra University music department gave me and the ensemble to play in such a prestigious venue." A contingent of La Sierra University faculty, staff and alums also attended the Wind Ensemble's Carnegie performance including university President Randal Wisbey and his wife, Deanna Wisbey. "It was a wonderful success for the La Sierra Wind Ensemble and for our university's learning community," said Randal Wisbey. "When Professor Santos raised his baton and the first notes rang out on that historic stage that has been witness to some of the world's finest musicians, it was truly a beautiful moment."
David Kendall, music department chair and director of music history and research at La Sierra played trombone with the ensemble. He described the experience as "breathtaking." He said, "Walking the halls behind the stage and observing the portraits of the incredible musicians who conducted and performed there was very humbling for us. Walking in the footsteps of these giants of classical and popular music was a great learning opportunity for the students and professors alike."