Nina Vallado's film "Sisterly" was recently selected as one of just seven finalists from more than 1,600 documentary film entries for the 2017 Student Academy Awards.
In May 2017, Vallado graduated magna cum laude from Andrews University with a Bachelor of Fine Arts in documentary film. Her senior project, a short documentary called "Sisterly," tells the story of Vallado's relationship with her sister, Lisa, who is on the autism spectrum.
"When Nina first walked into my office, it was exciting to realize that she was exactly the type of student I was thinking of when I designed our documentary film program at Andrews — someone with a big heart and a deep interest in the problems of the world," says Paul B. Kim, chair of the Department of Visual Art, Communication & Design, and professor of documentary film and communication.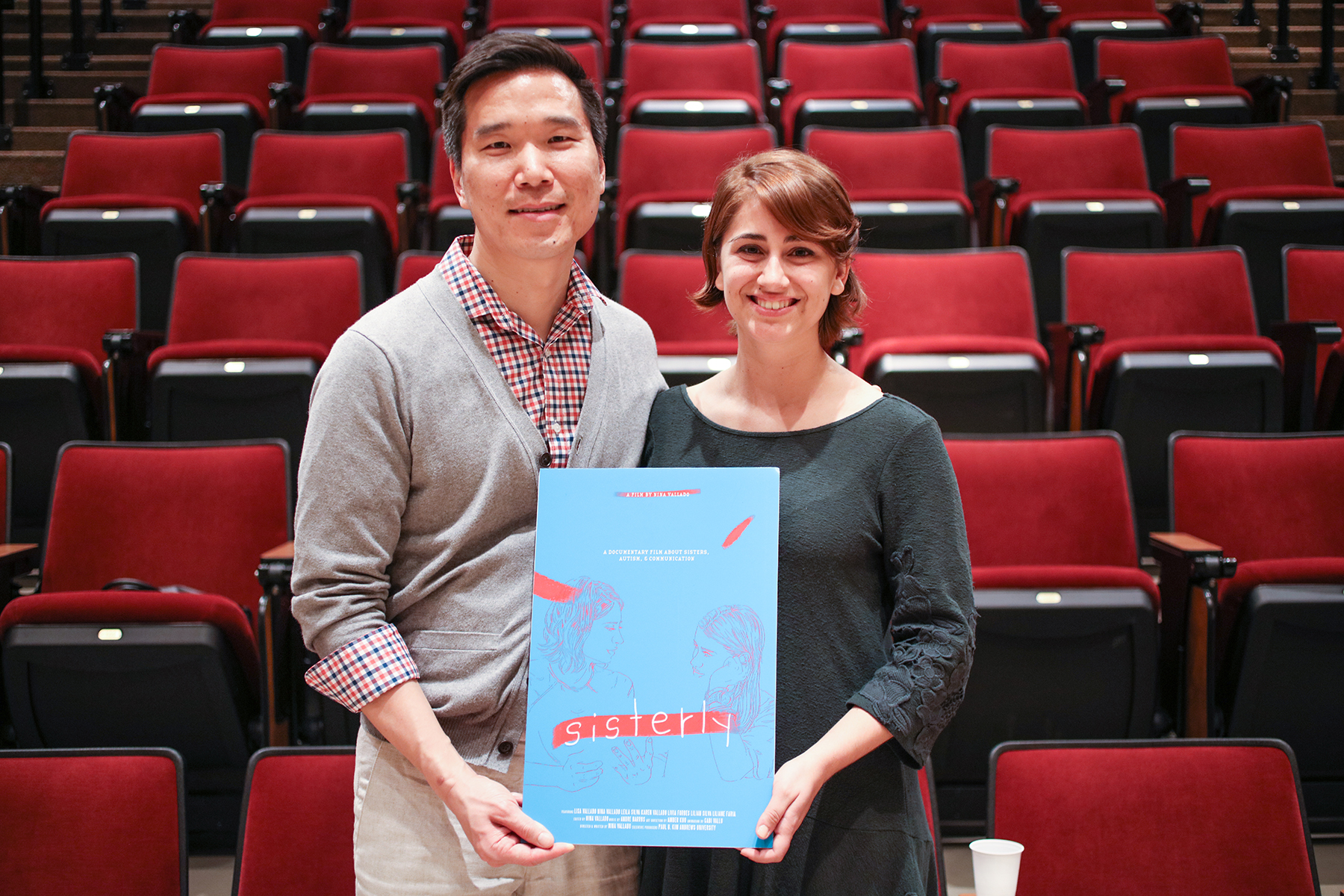 "Early on, when we first discussed the possibility of making a film about her younger sister, Lisa, and the challenges she faced with being on the autism spectrum, it was clear that it would be a film that would need to be developed over a long period of time. ... Over time we saw a narrative arc in Nina's experience that suggested this would make for a powerful personal narrative documentary, a form where the director becomes an active character in the film. One doesn't make that decision lightly, because it takes a tremendous amount of vulnerability and self-awareness, something that's difficult to balance when you're so very close to the story."
Kim says Vallado could have "easily tackled something much simpler, but she chose a most difficult story, and one with the most at stake. She treated this not as a student film, but as a professional one, raising a fairly substantial amount of funds as well as bringing in a talented composer and recording the score in Iceland."
Vallado is currently working in the Communication Department of the North Pacific Union Conference, in a two-year paid communication internship.
Below is Vallado's story told in her own words.
"It's strange to put into words what it was like growing up with Lisa. She's my sister, and I loved her, and I interacted with her in the means I knew how, but because there was no verbal communication, I didn't really know her. She could repeat things she'd been trained to say, such as responses to, 'how was your day?' or 'what is your favorite color?' — but her interests, her personality, and her dreams were a mystery to me.
"Telling our story through film taught me what sisterhood is. Before this I based my idea of what sisterhood should be off what my mom and her sisters had, or what my friends and their sisters had. But sisterhood is a unique bond that you create with your own sisters.
"My sisters, Karen and Lisa, and I have our own special sisterhood. We met Lisa where she was, and it was never the worst thing in the world that Lisa couldn't speak; we just found things we could do together — things Lisa loved, like puzzles and Memory, and everything Disney. Sisterhood can be complicated, messy or broken, but it's still sisterhood. And we have always had that.
"Lisa and I have always had connection and intimacy, and now it's really just a matter of exploring those things. With Lisa's sudden verbal expression of herself at age 16, we've had a breakthrough, and my film kind of gives viewers a glimpse of that, but I'm still searching. The breakthrough wasn't the end; my film just gave me a place to start, and I haven't stopped.
"I didn't really have a dream for 'Sisterly.' That may be sad, but I think I just didn't want to be disappointed. I submitted it to some small, local film festivals, but none of them accepted it, so I started looking for free festivals, and found the student Oscars. I had nothing to lose. Out of the blue I got an email from them that started with, 'Congratulations!' and my first thought was, What?!
"I'd made it into the semi-finals. A month later, I got notification that I'd made it to the finals. I find out in mid-September whether or not my film was selected as a winner, and from there I go to the actual Oscars.
"There's a film that came out in 2016 called 'Life Animated,' which tells the story of a family of brothers, one of whom is on the autism spectrum. That film had a huge impact on the story I was telling with 'Sisterly.' There's a short scene in the film that talks about the fears and joys of having a brother with autism, and I related to that scene. It gave me confidence to continue with the theme of sisterhood in my film. If I could show my film to anyone in the world, I'd want to show it to that family, because their story helped validate my own.
"The Oscars sounds cool — and they are! — but I also look forward to sharing my film in churches and schools, because they're communities that need a voice for autism. And I'm proud to be able to be that voice on behalf of my sister."